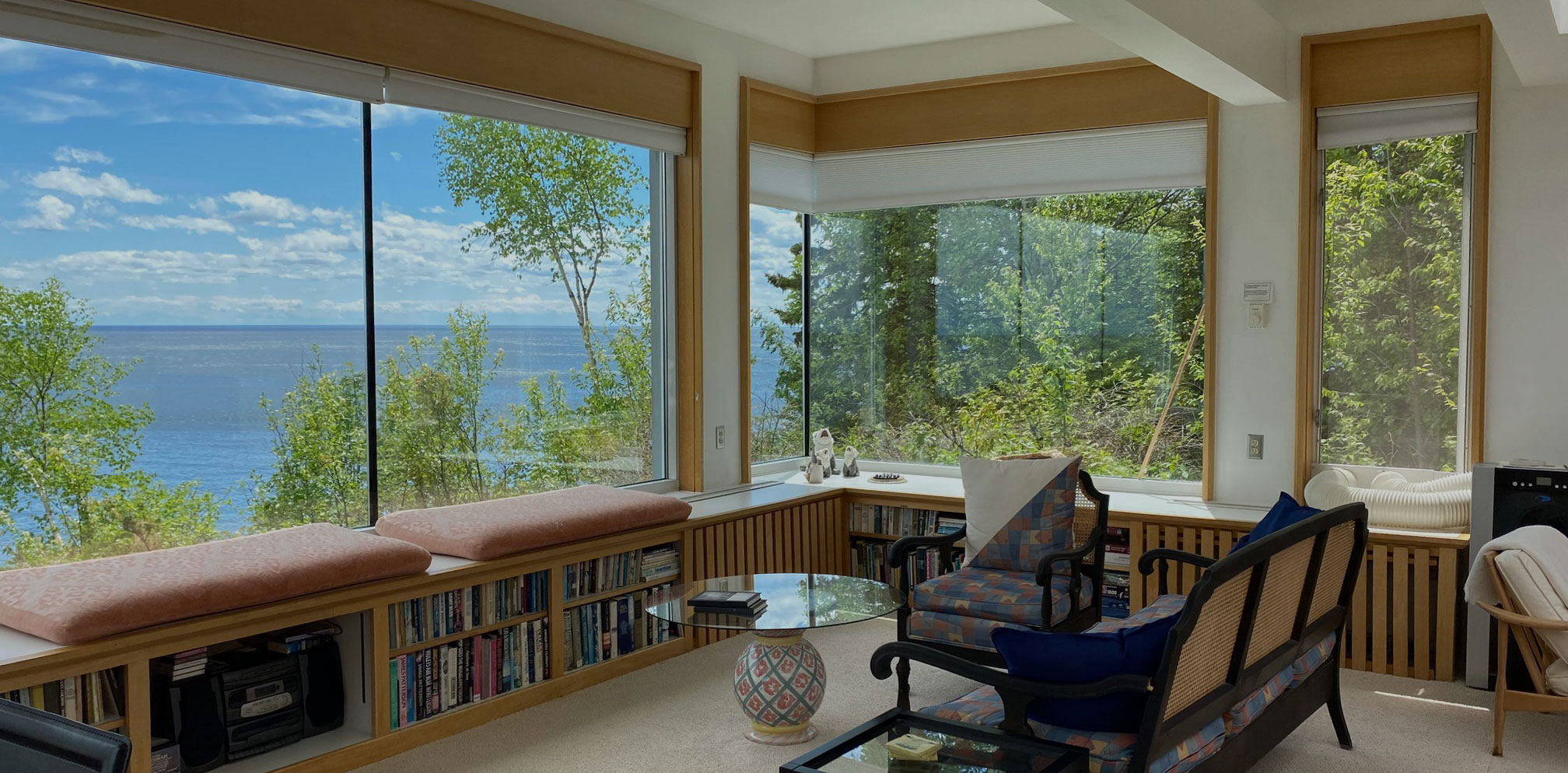 Horizon House
This home is a rare find. From the moment you arrive your senses are overwhelmed by the natural beauty all around you. This retreat is situated on a 40 foot cliff overlooking Lake Superior. Local folks call it "the glass house" due to 180 degree views of the Lake. The exterior walls are 65% windows with views of the lake and the woods from all rooms but one bathroom. A 10 by 15 foot skylight washes the great room with light and star views at night. The total effect is that you are inside but also feel at one with the outdoors.
The open plan great room has a full kitchen with electric stove top and oven, refrigerator, microwave, and dishwasher. It is stocked with dishes and cooking utensils. There are two dining areas that seat six and four. Cushioned window seats all around the front windows have books, stereo and games on shelves beneath.
Wake up from either bedroom with a full view of the lake to greet you. Why would you sleep in?
For those who have to touch the outside world while in this private natural setting, there is free WIFI, two "smart" flat screen TVs (great room and master bedroom) with Bluetooth DVD player and Direct TV. There is a local land line phone as well.
…and then there is the steam shower and two person jetted soaking tub!
Location
Lutsen, Minnesota, USA, 88 miles Northeast of Duluth, MN and 18 miles below Grand Marais
Two miles to the Lutsen Resort, Lutsen Ski Hill and golf course
Accommodations
2 queen bedrooms, 2 full baths each on opposite sides of the great room.
An incredibly comfortable Queen Sofa bed in the Great Room sleeps 2.
Sleeps 6 guests, no children under 13 years of age, no smoking, no pets.
Amenities
The owner of Horizon House enjoys cooking so we like to think we keep a well stocked kitchen. Previous renters may have left condiments or spices in the kitchen. Please feel free to use them up but we will not replenish them. These are the items we provide:
Two Smart Televisions
Direct TV
Free Wifi
Electric Stove & Oven
Refrigerator/Freezer
Automatic Drip Coffee Maker
Keurig Coffee Maker
Coffee Grinder
Electric Water Kettle
Toaster
Microwave
Dishwasher Soap
Dish Soap
Liquid Bathroom Hand Soap
Garbage Bags
Crock Pot
Magic Bullet
Dishes
Glassware & Flatware
Pots &Pans
Gas Fireplace
Hair dryers
Bath & Kitchen Towels
Toilet Paper
Bed Linens
Rice Cooker
Ironing Board & Iron
CD Player/Radio
Landline Telephone (local calls only)
Two Fire Pits
Gas BBQ
Patio Chairs
Dishwasher
There are laundry facilities half a mile up the road and local stores for fire‐pit wood and other necessities you may have forgotten to pack. The nearest major grocery store would be in Grand Maras.
We stayed at Horizon House for our annual women's weekend. You should have heard the ooh's and aah's when we walked in the door. We were prepared for something special but the reality was far better than the fantasy. The views of the lake are superb and the house is well equipped and comfortable. We truly enjoyed ourselves hiking, playing games, chatting and laughing a lot. Now it's time to go and we are still mesmerized by the lake views.
Ps. We saw two beautiful Harvest Moons!
We opened the door and our jaws dropped! What a gorgeous place! We came to relax, read, paint and think about our retirement and we could not have asked for a more perfect place to do all those things. We had 10 sunny days, a day of large waves, one where there was no Horizon at all, and several gorgeous sunrises that we woke for. We once lived in a house with many Frank Loyd Wright influences and this reminds me so much of that- the corner windows, the use of bright orange and pine, and successfully bringing the outdoors in. I'm a realistic portrait painter and I did my first two oil landscapes here! The Light is incredible! Who could resist!?
Saw Saturn tonight through the binoculars, and could even make out its rings.
Awoke to glorious sunshine pouring in- a common occurrence here, we're beginning to find out… a perfect night- Turkey Leek pie and The Story of Hiawatha.
I've never experienced the Lake as magnificently as here at Horizon House. What a perfect name. Jerry grilled our steaks on the patio surrounded by roses. We will travel up Hwy. 61 today but we hate to leave this place.
We want you to know how much we enjoyed our stay at your family home. The space just feels good!  The peace and solitude, not to mention the skiing and hiking were very restorative. A fabulous change of scenery and routine in this time of Covid isolation.
I really like, no wood burning fireplace!
We look forward to returning. Love all the info in the book and your mother's book. Your home provides a wonderful opportunity for many.
Our stay was perfection!! My sister and I were lucky enough to be there for 7 days. I must say, your website prepared me for a wonderful stay, but we couldn't believe it when we pulled into the driveway. My sister was prepared for a housekeeping cabin, and I wanted this to be a surprise for her and also a retreat and gift to her for surviving a year of turmoil and exasperation. She was overwhelmed by the location and the generosity of you letting strangers stay in your personal space (as was I).
We hauled up a van full of our scrap booking and had many treasured hours pouring over our family photos and making even more memories. The beginning of the week was cold, windy and rainy, with absolutely perfect windswept waves for the next few days. Then the weather lightened up and we had our fill of hiking for the next few days and back "home" again for cuddling up in your cozy space. We had each brought up a least 5 books apiece, CD's full of favorite songs, and even our own boom box. Imagine our JOY to see ALL THOSE BOOKS and a great stereo and a nice mix of music. It was like you knew our every love. And we are still in awe of the splendor of the sun pouring in!
Horizon House
PO Box 41761, Los Angeles, CA 90041
Email: heather@lutsenrentals.com
Horizon House property is owned by the Kittie Frantz Trust and offered on lutsenrentals.com our website, as well as advertised and vetted on the VRBO/HOME AWAY website.
Our motivation for offering our lovely home as a vacation rental is to bring in income that helps in preserving and maintaining the property for a few more generations of our family. When we are not in residence, we will be happy to share this wonderful place. Feel free to contact us should you have any further questions.
We look forward to your stay at our favorite place on the planet!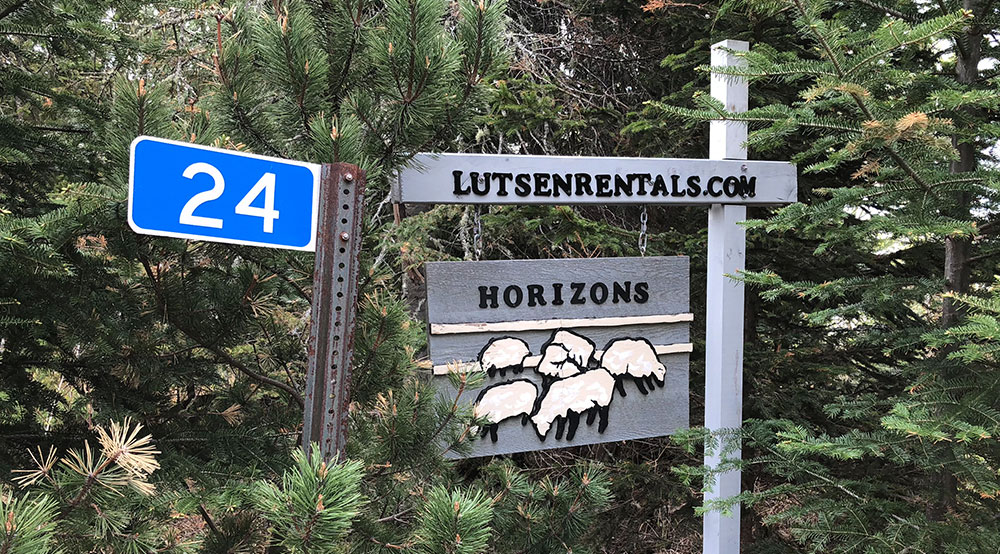 Activities
North Shore nearby: Hiking, biking on the bike trail in front of the house, fishing, hunting, great restaurants, golf, canoeing/kayaking, climbing, "leaf peeping" the Fall colors, Sailing, Northern Lights, dog sledding, naturalist lectures, birding and wild life in the yard!
The famous Lutsen Ski Hill is 2 miles away for downhill and cross country skiing. In the summer there is an Alpine Slide and Gondola rides to enjoy on the hill.
The Superior hiking trail is on the other side of Highway 61. A peregrine falcon nesting place is nearby. Sorry, no Bigfoot.
Grand Marais 18 miles up the road was named "The Best Little Town in America" and boy is it ever! Many artists live in the area so there are galleries, live theater, fabulous restaurants, music venues, fresh fish, boating, shopping and for the adventurous, The Gunflint Trail for legendary Boundary Water canoe trips.
You cannot possibly be bored during your vacation at the lake all year round.